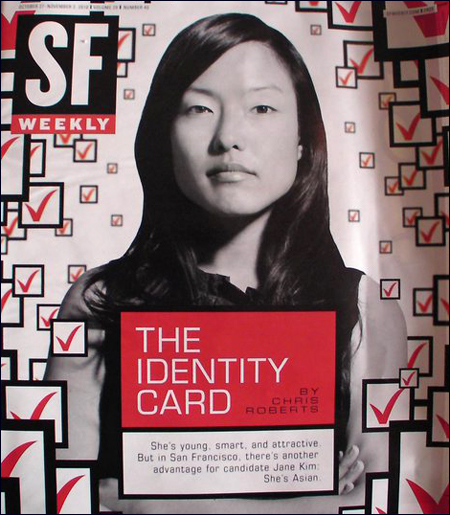 Check out our friend Jane Kim, president of the San Francisco Board of Education, who is running of supervisor for District 6 (and looking for your vote in next week's election), rocking the cover of
SF Weekly
:
The Identity Card
.

There's plenty to like about Jane Kim, a shopping list of positives to which her supporters and detractors both readily admit. She is young, smart, attractive, and well-spoken. She is a natural on the campaign trail, able to connect with high school dropouts, Tenderloin SRO dwellers, and million-dollar-condo owners. She's a formidable fundraiser. She has earned her political stripes, rebounding from a defeat in the 2004 race for the board of education to be the top vote-getter in the 2006 contest. During her term, she sided with progressive allies in a failed bid to disband JROTC, but she has also proved pragmatic, voting to reform the district's byzantine student assignment system.

And Kim has a not-so-secret weapon that could propel her past better-established competitors, the same factor that could decide next year's mayoral election: She is Asian.
I'm not crazy about the article -- it's not so much about Jane the awesome candidate as it is about Jane the Asian candidate, but it does recognize that there is a movement changing the face of San Francisco politics.
I also want to share this
cool photo
of Jane and her Listening Booth: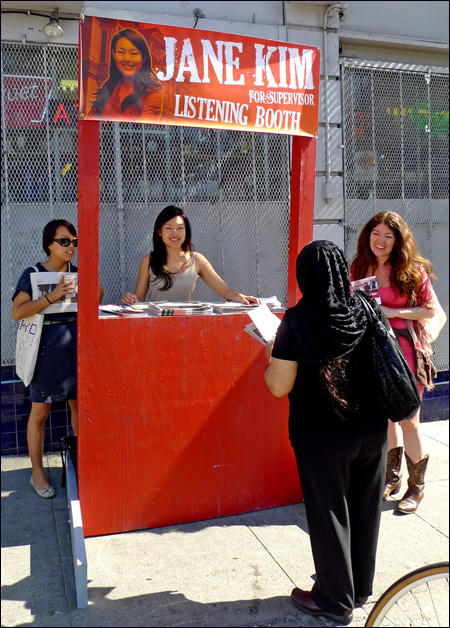 For more information on Jane Kim, candidate for Supervisor, go
here
.