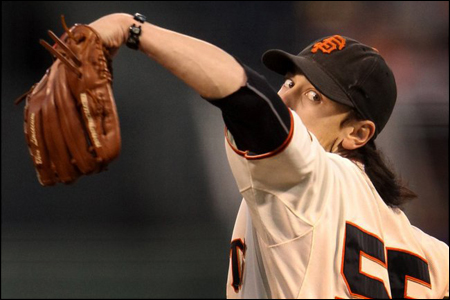 I have to show some big love for pitcher Tim Lincecum, who threw like a beast in his playoff debut and led the San Francisco Giants to a 1-0 victory last night over the Atlanta Braves in Game 1 of the 2010 National League Division Series:
Lincecum pitches Giants to victory in Game 1
.
He may be young, skinny, and floppy-haired, but Lincecum was in top-form, pitching a two-hitter and striking out 14 Braves batters. He became just the 12th pitcher in Major League history with 14 or more strikeouts in a postseason game. They don't call him The Freak for nothing.
Okay, so San Francisco got some huge help from the umpire on a
big blown call
at second base. But I don't care. Yes, I'm a lifelong Giants fan, and dammit, that win feels pretty damn good. More on Lincecum's performance here:
New pitch returns Lincecum to dominance
.