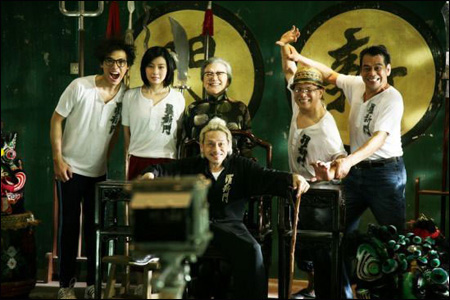 For all you film fans in Toronto, just wanted to throw out another reminder about the
14th Annual Toronto Reel Asian International Film Festival
, running November 9-15. Don't you want to be part of the fun? Yes:
Reel Asian film fest kicks off with kung fu homage
.
The Opening Night Gala is tonight, with a screening of Clement Cheng and Derek Kwok's
Gallants
, a hilarious homage to action stars of yesteryear, described as "the most hilarious, nostalgic and ass-kicking movie you will see all year." Here's the festival's write-up:

Remember the '70s? A time when kung fu was king and people didn't use CG to fight? Back then, men from Hong Kong like Bruce Leung and Chen Kuan-Tai were heroes — silver-screen martial arts stars who embodied the ideals of courage and valour.

Fast-forward to 2010, and we get Hong Kongers like Gallants' protagonist Cheung, a skinny, morally compromised young man whose youthful flights of fancy as a superhero now dissolve into the mundane reality of a low-rent real estate agent. Like many of us, he longs for a return to the good old days of martial arts values. In a stroke of luck Cheung, he stumbles upon an old tea house and two men in their 60s who may be able to teach him a thing or two. But are their hopes of recapturing their former glory even possible in today's laissez-faire, post-1997 economic reality?

From the wisecrack voiceover to the awesome psychedelic opening credits, Gallants announces itself as a film made by true kung fu aficionados. Homage to old martial arts classics abound, from the casting of 1970s Shaw Brothers staples to the fight-to-the-finish tournament. But Gallants is far from a mere rehash of chopsocky classics. Instead, it is a film that respects its sources while bringing the fundamentals of the cinematic yesteryear — the fights, the camaraderie, the martial arts spirit — to a new generation. A real highlight is the role of Master Law by ex-crooner Teddy Robin Kwan, who commands his every scene with gravitas and unparalleled comic timing.

In contemporary Hong Kong, almost no one dares to headline a film with only seasoned veterans, but directors Clement Cheng and Derek Kwok persevered with some help from superstar Andy Lau, the film's executive producer. The result strikes gold with possibly the most hilarious, nostalgic and ass-kicking movie you will see all year.
This website is a proud media sponsor of the Toronto Reel Asian International Film Festival. The festival continues through November 15 with a packed lineup of feature and short films, industry panels and parties. For the full schedule of screenings and events, as well as ticket and venue info, go to the Reel Asian website
here
.