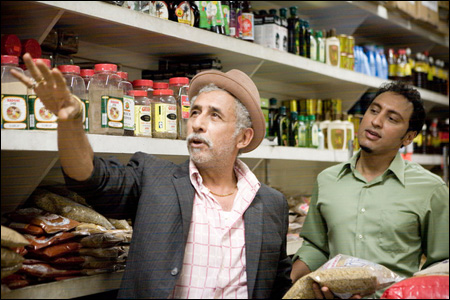 If you're in the Bay Area, and want to see something a little different at the movies, check out
Today's Special
. The indie foodie comedy, starring and written by
The Daily Show's
Aasif Mandvi, and directed by David Kaplan, opens this Friday, November 19 at the Landmark Theatres in San Francisco. Here's the
trailer
:
It will make you hungry. Here's the synopsis:
TODAY'S SPECIAL is a heartwarming comedy with a culinary flavor, inspired by Aasif Mandvi's Obie Award winning play Sakina's Restaurant. Samir is a sous chef who dreams of becoming the head chef at an upscale Manhattan restaurant. When he is passed over for a promotion he impulsively quits and lets his co-worker Carrie know that he intends to go to Paris and apprentice under a master French chef. Dreams must be put aside though after his father Hakim has a heart attack and Samir is forced to take over Tandoori Palace, the nearly bankrupt family restaurant in Jackson Heights. Samir's relationship with his parents and his heritage is immediately put to the test. He has been estranged from his father since the death of his older brother, and his mother Farrida, is consumed with finding a wife for her remaining son.

While Samir is being forced to forsake his dreams, he is desperately trying to master Indian cooking to salvage the family business. Luckily, he crosses paths with Akbar, a taxi driver, passionate chef, and worldly raconteur. Akbar inspires Samir and teaches him to trust his senses more than recipes; to stop measuring his life, and to start truly living it. With Akbar's guidance, Samir has a chance to rediscover his heritage and his passion for life through the enchanting art of cooking Indian food.
I saw this movie at Opening Night of this year's San Francisco International Asian American Film Festival, to a packed house at the Castro Theatre. It's a crowd-pleaser. While the movie doesn't go anywhere particularly groundbreaking, and you can see where the story's going pretty quickly, it is quite charming.
In addition to this Friday's theatrical run in San Francisco, the movie also opens December 3 at the Landmark Guild Theatre in Menlo Park. For more information about the film, go to the
Today's Special
website
here
. Also check out this
New York
magazine article on Aasif Mandvi:
77 Minutes With Aasif Mandvi
.