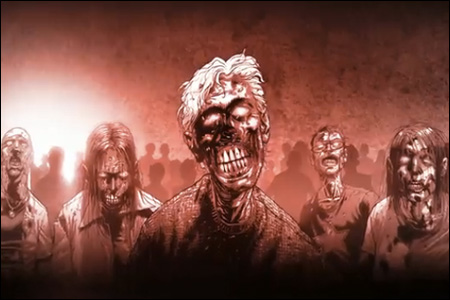 Totally missed this when it hit the web about two months ago (I think I was on vacation)... So I've been really enjoying AMC's
The Walking Dead
. But while the opening credit sequence is okay, it pales in comparison to this brilliant
fan-made title sequence
by filmmaker Daniel Kanemoto, which draws heavily from the comic book series artwork by Charlie Adlard and Tony Moore.
The Walking Dead
rocks, but this would make it rock fifty times harder. Take a look:
Here's Kanemoto's own explanation of why he created this sequence:
My favorite "exclusive" from this year's Comic-Con was a beautiful painting by legendary artist Drew Struzan, featuring a horde of zombies from THE WALKING DEAD. Frank Darabont is adapting the apocalyptic Image Comics book created by Robert Kirkman, and man, it looks really, really great.

As I was admiring Struzan's work of art, I wondered what the opening titles to this terrifying new television show might look like... so I animated a spec title sequence using artwork ripped from the pages of the comic, originally illustrated by Charlie Adlard and Tony Moore.

Just so there's no confusion, I'm not affiliated with the production in any way -- I'm simply a huge fan of both Frank Darabont and Robert Kirkman, and this is my attempt at creating a cinematic introduction to one of the all time great "continuing stories of survival horror."
The bootleg credit sequences have drawn the attention and appreciation of the likes of
Lost
producer Damon Lindelof and sci-fi author/BoingBoing blogger Cory Doctorow, who have helped push it into pop culture consciousness.
Here's also EW.com's interview with Daniel Kanemoto from a few months back:
Fan-made credits for AMC's zombie drama 'The Walking Dead' go viral; we talk to the creator
. And for more from Daniel Kanemoto, go to his Ex Mortis Films website
here
. (Thanks, Duke.)