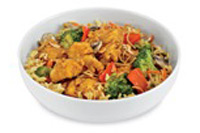 So check this out. For all you calorie counters out there, this recent article posted on Yahoo! Health has created a list identifying the "six worst Chinese meals in the country":
America's Worst Chinese Meals
.
If you're watching what you eat, I guess this is kind of helpful. That said, all of the dishes happen to be from restaurants that no self-respecting diner would ever call "Chinese" -- P.F. Changs, Manchu Wok, Panda Express...
Worst Soup
P.F. Chang's Chicken Noodle Soup (bowl)

Worst Chicken Combo Meal
Manchu Wok Honey Garlic Chicken

Worst Pork Entree
P.F. Chang's Mu Shu Pork w/ Pancakes and Hoisin Sauce

Worst Beef Combo Meal
Panda Express Beijing Beef and Fried Rice with a Veggie Spring Roll

Worst Noodle Combo Meal
P.F. Chang's Double Pan-Fried Noodles Combo

WORST CHINESE MEAL IN AMERICA
Applebee's Crispy Orange Chicken Bowl
There's something really funny (and totally appropriate) about the fact that the "Worst Chinese Meal in America" can be found at Applebee's.
I won't lie -- I have been known to partake in a Panda Express entree or two. Sometimes you just get a craving. But as I take a bite out of that crack they call "orange chicken," Chinese food is the furthest thing from my mind.
The article does acknowledge that this isn't real Chinese cooking: "Whatever authenticity that once might have existed has long since been warped by years of exposure to American taste." But seeing all these dishes under a headline describing them as "Chinese meals" makes me laugh. (Thanks, Christina.)