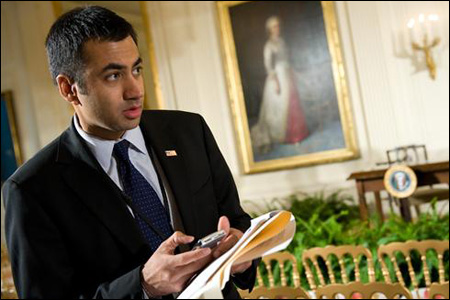 It seems that Kal Penn has some unfinished business at the White House. The actor, who left his job with the Office of Public Engagement earlier this year to film his co-titutlar starring role in the third
Harold and Kumar
movie, is returning to join the president's team again:
Kal Penn returns to the White House
.
Looks like the return-to-acting thing was just a nice extended vacation. Now that Mr. Modi has fulfilled his commitment to filming
A Very Harold and Kumar Christmas
, as the third movie is tentatively titled, it's back to Washington. Here's the statement from the White House:

The White House is pleased to have Kalpen Modi join the Office of Public Engagement as an Associate Director," White House spokesman Shin Inouye said in a statement on Monday. "While OPE works collectively on conducting outreach to the American public and various organizations, he will be the point person for those in the Arts, Youth, and Asian American and Pacific Islander (AAPI) communities.
More here:
Kalpen Modi Returns To White House Job After Leaving To Film 'Harold & Kumar' Sequel
. Monday was his first day back at work. Do your thing, Kalpen. I'm still looking forward to seeing the next
Harold and Kumar
movie. No firm release date yet, but you'll see it sometime in 2011 -- in 3D!