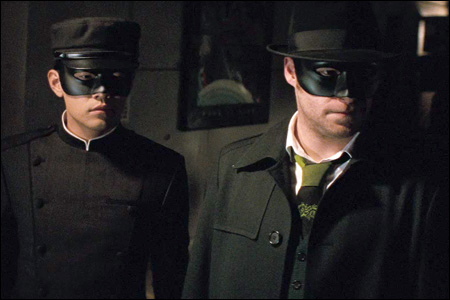 Yahoo! Movies just launched the new
theatrical trailer
for
The Green Hornet
starring Seth Rogen and Jay Chou. This one's actually not too different from the
teaser trailer
that launched over the summer, but it does have a few more shots of Jay Chou kicking ass as Kato. Take a look:
Here's the official
Green Hornet
synopsis from Sony:
Britt Reid (Seth Rogen), son and heir to Los Angeles' largest newspaper fortune, is a rich, spoiled playboy who has been happy to maintain a direction-less existence. When his father James Reid (Tom Wilkinson) dies, Britt meets an impressive and resourceful company employee, Kato (Jay Chou). They realize that they have the resources to do something worthwhile with their lives and finally step out of James Reid's shadow. Kato builds the ultimate weapon, The Black Beauty, an indestructible car with every weapon imaginable and Britt decides that in order to be heroes, they will pose as villains. With the help of Britt's new secretary, Lenore Case (Cameron Diaz), they learn that the chief criminal in the city is named Benjamin Chudnofsky (Christoph Waltz). He has united all the gangs under his power, and he quickly sees that the Green Hornet is a direct threat to the prosperous criminal underworld he controls.
This movie has been a long time coming, with quite a few false starts, crazy casting rumors, and an extended stay in development hell. Having followed news about the production at every turn, over several years, I feel like I written
a lot
about
The Green Hornet
. For better or for worse, I think I'm just looking forward to the movie finally getting released.
The Green Hornet
opens in theaters everywhere on January 11.