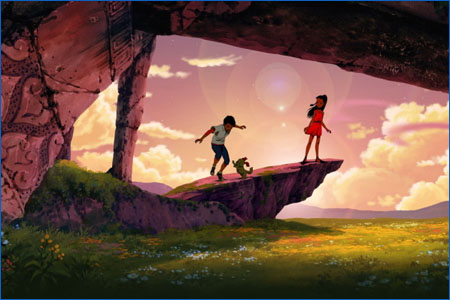 I received a press announcement the other day about
The Dreams of Jinsha
, an animated fantasy adventure from China. I didn't know anything about it, but hand-drawn feature is apparently the most expensive animated film ever produced in China, and took five years to make. And it's coming soon to U.S. theaters. Here's the trailer:
Here's the synopsis:
Xiao Long is a modern day middle-school student, who, after being transported 3,000 years back in time to the ancient kingdom of Jinsha, discovers his true destiny. Jinsha is a beautiful and magical place but plagued by a mysterious evil energy which its inhabitants fear they can't hold off, much less defeat. After the school boy witnesses the beginnings of the destruction by the forces of darkeness on this ancient land, he is overcome with sadness and pledges to help. Upon discovering a special connection with nature, Xiao Long gains the trust of the beautiful young Princess Hau'er and her loyal subjects and together they fight the wicked forces surrounding them to restore peace across the kingdom. Along the way, Xiao Long reforms himself into a courageous boy who forgoes his self-centered behavior to coexist harmoniously with others.
It looks like a really ambitious film. But it was recently announced as one of the films eligible for this year's animated Oscar race. Thus, they are releasing it in the U.S. for an Oscar qualifying run. Obviously, they're gunning for a nomination like last year's out-of-nowhere nod for
The Secret of Kells
.
The Dreams of Jinsha
opens December 3 at the Laemmle Music Hall in Los Angeles.