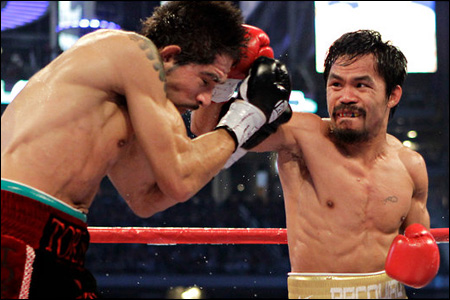 In case you hadn't heard (if you're Filipino, it was kind of required viewing)... On Saturday night, boxer/pride of the Philippines Manny Pacquiao did what he does best, turning Antonio Margarito's face into a bruised and bloodied sight -- in the ring, of course -- to win his 13th straight victory and the WBC light middleweight title in a unanimous decision:
Pacquiao wins on dominating performance
.

Against his biggest opponent yet, in his eighth weight division, Pacquiao did what Pacquiao always does: he dipped and danced and fired southpaw, he ducked and spun and landed a tornado of combinations. When it ended, Pacquiao had earned his 13th straight victory and the World Boxing Council's vacant 154-pound title, in a bloodbath, by unanimous decision.

"I can't believe I beat somebody this big and this strong," Pacquiao said.

With each round, Margarito's face worsened, as if Pacquiao was painting a brutal boxing masterpiece. It went like this: seventh round, left eye closed; eighth round, bleeding from nose; ninth round, left cheek bruised; 10th round, fight nearly stopped.

In the 11th round, Pacquiao glanced at the referee, almost pleading for a stoppage. In the 12th, he took mercy, punching rarely, allowing Margarito to finish on his feet, after which he was taken to the hospital.
More here:
Bruising Win by Pacquiao Pits Speed Over Size
. He might be smaller, but Pacquiao packs a punch. Margarito learned the hard way:
Margarito needs face surgery after Pacquiao
.
I wonder if Floyd Mayweather spent the $65 to watch the match on pay-per-view. Do you hear that, Floyd? Do you hear the phone ringing? You might just want to let it keep on ringing, for your own good. More here:
Mayweather should keep dodging Pacquiao
.