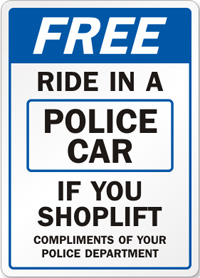 Unrepentant petty thief Anthony Bennett inadvertently became Toronto's most notorious shoplifter for his role as laughable star witness in the trial against Chinatown grocer David Chen, aka the "vigilante grocer."
Last week, the repeat offender was back in court facing his latest shoplifting charges. The guy appears to be really terrible at stealing and really good at making a colossal waste of everybody's time:
Vigilante grocer's foe back in court
.
Meanwhile, David Chen, owner of the Lucky Moose Food Mart, has sort of become a folk hero legend among the frustrated Chinatown shop owners for whom dealing with repeat shoplifters is a daily reality:
Taking a whack at shoplifters
.

Many of the green grocers in Toronto hail from China's Fujian province, and the Chen case has knit them together. Mr. Chen and Mr. Ing, and about a dozen other grocers, gathered later at a Chinese restaurant in Mississauga to examine ways to curb shoplifters. The grocers said that, in Mississauga as in Toronto, police are slow to respond to shoplifting calls, and rarely does the shoplifter face even a charge.

"Every day I get at least one theft, and they are all repeat offenders," said one shop owner in the Jane-Finch neighbourhood. In one case last year, seven people came into the store and began to steal things. When clerks approached them, the thieves began assaulting the store clerks, and then called police and reported they were being assaulted.

Another shopkeeper said, "I used to call police all the time, but after David's case I stopped calling."
One supermarket owner suggested that Canada should adopt Singapore-style caning as punishment for shoplifting. Definitely not messing around.
While I'm not a fan of vigilante or frontier justice, and the dangerous places they can take conflict, you can certainly understand why these shop owners are pissed off. In the face of rampant, regular thievery -- at its core, an assault on their livelihood -- the authorities have basically turned a blind eye. More here:
Grocer seeks to ban shoplifter from Chinatown, Kensington
.