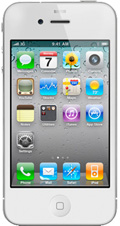 Hey, hipsters! Do you want one of those fancy white iPhones? The highly-coveted white iPhone 4 is one of those mythical, gotta-have-it items among Apple fanboys and gadgeteers. And if you want one, Fei Lam -- a high school student in Queens -- can apparently hook you up:
Busted For Exploiting Hipsters
.
Well, maybe not anymore. According to Gawker, this entrepreneurial youngster, with help from a friend in China, found a way to convert the traditional black iPhone 4 to a white one, and reportedly made somewhere around $130,000 from selling parts. Until Apple inevitably got legal on his ass...

The white iPhone is the Holy Grail of smartphone aficionados. Lam, a Queens high school senior, knew how to get one. Or rather, he knew someone who knew someone at Foxconn, Apple's Chinese manufacturing partner, and who could help him get parts he told the Observer's Ben Popper. Lam set up a pipeline to China, a kit for converting black iPhone 4s to white iPhone 4s, and then a website. He was soon all over CNN, TechCrunch and CNET and rolling in orders, many of which, no doubt, came from young digital trendsters one borough over in Brooklyn.

But Apple's notoriously aggressive about defending its intellectual property, and Lam may now be in hot water.
Okay, so the kid doesn't have much of a handle on "legal stuff." But you have to at least acknowledge his ingenuity and resourcefulness. If there are obsessed people actually willing to plunk over $279 for a friggin' bootleg white iPhone 4 kit, I guess you can't blame the guy for trying...
UPDATE: More on the kid here:
Will White iPhone 4 Send New York Teen to College … or to Jail?