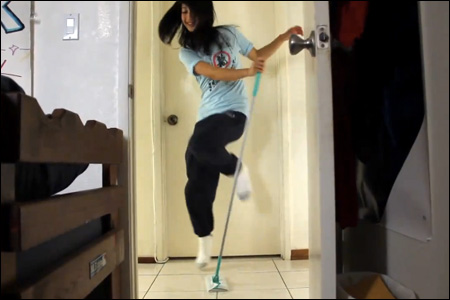 Came across this cool homemade dance video, and thought I'd share:
Welcome Home Remix
by Julie Zhan, who I had the pleasure of meeting recently. I had no idea she was such a fab dancer. The project is her own little tribute to Daniel Cloud Campos' amazing
Welcome Home
video. Here's Julie's take:
According to Julie: "This remix is about a girl that discovers some awesome dance powers while cleaning her house...only to find out it was a dream. Third time around, she's back in reality and dances horribly. But were the first two times really a dream? Or was there something in the Chinese food? Dun dun dun..." That's right -- blame it on the MSG.
The film was shot over the one day, with a small crew, and a lot of enthusiasm. It's a little awkward here and there, but it's super cute. (My favorite part is the sequence in the hallway.) With a little tip of the hat to
The LXD
at the end there. Nicely done, Julie and Co.