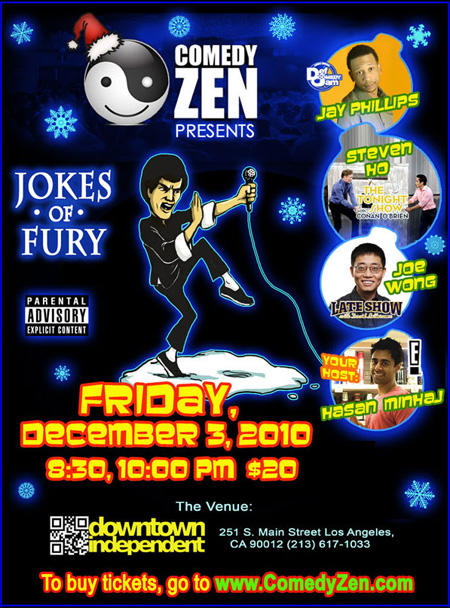 If you're in Los Angeles this Friday, and looking for some laughs, head downtown this Friday for another round of
Comedy Zen
, featuring the comedy stylings of Joe Wong, Jay Phillips, Steven Ho, and hosted by Hasan Minhaj. It's happening this Friday, December 3 at the Downtown Independent, with two shows at 8:30 and 10:00pm. Here's a
trailer
for the show:
And here are some more details:
Comedy Zen: Jokes of Fury

Friday, December 3
8:30pm & 10:00pm

The Downtown Independent Theater
251 S. Main Street
Los Angeles CA 90012

Back by popular demand, Comedy Zen is back and this time, there will be booze and food at the concession stand! On the show, we have Hollywood's stuntman, Steven Ho, who will be putting our comedians through different stunt shows. He has trained Leonardo Dicaprio, Tobey McGuire, and Tom Cruise for stunts and was Conan's most requested guest during his era on The Tonight Show. Steven has just informed us he has already been invited back to be a guest on TBS's CONAN. He will be sharing some stories with us and performing stunts.

Also on the line up is our headliner, Joe Wong who is also a self-proclaimed "all American immigrant." Many of you have seen him in the Late Show with David Letterman, The Ellen Degeneres Show, and the 2010 White House Annual Correspondents' Dinner.

The hilarity of JAY PHILLIPS rounds out the cast (listed on the poster as MYSTERY GUEST) and HASAN MINHAJ will be our host.
Wanna go to the show? Want to win some free tickets? I'm giving away five pairs of tickets to this Friday's 8:30pm show. To enter for your chance to win, email
comedyzen@gmail.com
by the end of Wednesday, December 1. Be sure to include "AAM CZ Contest" in the subject line.
For the rest of you, if you don't want to leave it to chance, you can buy your tickets
here
. Use the coupon code
"AAM"
to get $3 off. For more information about the show, go to the Comedy Zen website
here
and the Facebook event page
here
.