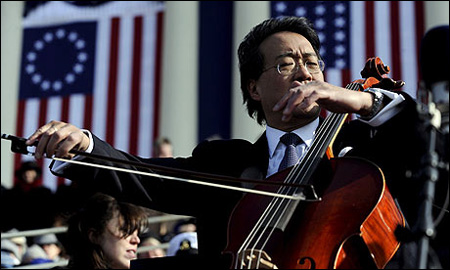 President Obama has named fifteen recipients of the Presidential Medal of Freedom. Here's the White House press release:
President Obama Names Presidential Medal of Freedom Recipients
..
The Medal of Freedom is the nation's highest civilian honor, presented to individuals who have made exceptional contributions to the security or national interests of the United States, to world peace, or to cultural or other significant public or private endeavors. Among the esteemed list of medal recipients...

Yo-Yo Ma

Yo-Yo Ma is considered the world's greatest living cellist, recognized as a prodigy since the age of five whose celebrity transcends the world of classical music. Born in Paris, Ma was a child prodigy who went on to study with Leonard Rose in New York. He made his Carnegie Hall debut at age nine. He was the recipient of the Avery Fisher Prize in 1978, and, in 1991, Harvard awarded him an honorary doctorate in music. He serves as Artistic Director of the Silk Road Project, and has won sixteen Grammy awards. He is known especially for his interpretations of Bach and Beethoven, and for his ability to play many different styles of music, including tango and bluegrass. He serves on the President's Committee on the Arts and Humanities.
If we're talking about "especially meritorious contributions" to cultural endeavors, I'm actually a bit surprised that Yo-Yo Ma hasn't received this medal before. Everybody loves Yo-Yo Ma! The man is a national treasure. The award will be presented at a White House ceremony early next year.