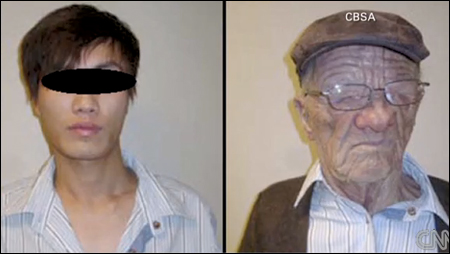 Asians behaving badly... airplane disguise edition! This is a crazy weird story about a young Asian man who boarded an Air Canada flight from Hong Kong to Vancouver
disguised as an old white guy
. With a mask and everything. You really have to see the photos to believe it. It's straight out of
Mission: Impossible
:
Man in disguise boards international flight
.
Authorities knew something was weird when it was observed that this elderly man appeared to have "young looking hands." Then, during the flight, the old man goes into the bathroom... and miraculously emerges as a young, twentysomething Asian male:

"Information was received from Air Canada Corporate Security regarding a possible imposter on a flight originating from Hong Kong," the alert says. "The passenger in question was observed at the beginning of the flight to be an elderly Caucasian male who appeared to have young looking hands. During the flight the subject attended the washroom and emerged an Asian looking male that appeared to be in his early 20s."

After landing in Canada, Border Services Officers (BSOs) escorted the man off the plane where he "proceeded to make a claim for refugee protection," the alert says.

"The subject initially claimed to be in possession of one bag; however, flight crew approached the BSOs with two additional pieces of luggage which were believed to belong to the subject. One bag contained the subject's personal clothing items while the second contained a pair of gloves. The third contained a 'disguise kit' which consisted of a silicone type head and neck mask of an elderly Caucasian male, a brown leather cap, glasses and a thin brown cardigan."

The man put on the disguise for the officers who "noted he very much resembled an elderly Caucasian man, complete with mimicking the movements of an elderly person. The subject admitted at this time that he had boarded the flight with the mask on and had removed it several hours later," according to the alert.
There's not a lot of information yet about who this man is, or why he disguised himself, but it does say that made a claim for refugee protection as soon as they got him off the plane. It's really the old man mask photo that freaks me out. Weird! Hopefully, more details will emerge about this guy, because I definitely want to hear the rest of this story.