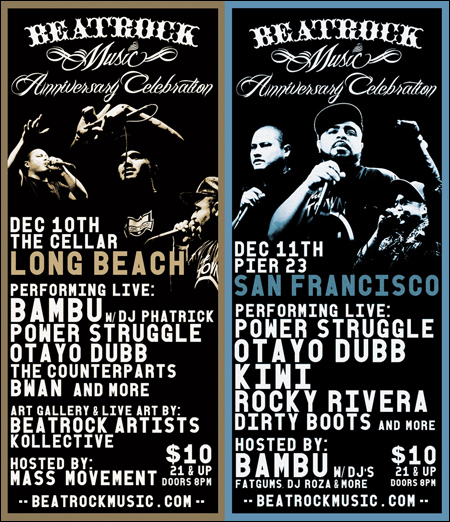 Beatrock Music
, the independent record label home to Bambu, Otayo Dubb, Power Struggle, The CounterParts, and Bwan, is celebrating its first birthday! After one year, with six releases under its belt, Beatrock Music has a lot to celebrate. So they're throwing not one, but two parties. Take a look at this Beatrock Music Anniversary promo video:
The first will be on December 10th at The Cellar in Long Beach. The second will be the following evening on December 11th at Pier 23 in San Francisco. Both events promise to be chalk full of live entertainment, from live music by label musicians to live artwork by the Beatrock Artists Kollective. Her are some more details:
12/10: LONG BEACH - The Cellar (201 East Broadway)
Live Performances by:
- Bambu and DJ Phatrick
- Power Struggle
- Otayo Dubb
- The CounterParts
- Bwan
Host: Mass Movement
DJs: DJ ET and Krissfader

12/11: SAN FRANCISCO – Pier 23 (Pier 23 on the Embarcadero)
Live Performances by:
- Otayo Dubb
- Power Struggle
- Dirty Boots
- Kiwi
- Rocky Rivera
Host: Bambu
DJs: DJ Roza, DJ Fonz and Fatgums
The events will also celebrate the birthdays of Nomi, the lead vocalist of Power Struggle, and Rachel, the lead singer of Dirty Boots. Doors open at 8pm on both nights. Admission will be $10 at the door. $8 pre-sale tickets are available now at the Beatrock Music
here
. Both events are 21 and up.