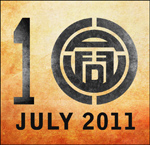 The
Asian Film Festival of Dallas
is now accepting entries for their 10th Annual festival, happening July 2011 in Dallas. Founded in 2001, the AFFD has grown to become the largest showcase of Asian and Asian American films in the southwest United States:
Now Accepting Submissions - CALL FOR ENTRIES!!
.
AFFD submissions are open to any feature film or video production by an Asian International or Asian American filmmaker, or a film with subject matter concerning Asian issues from any year, country, state, age, category, and serving any theme. Both new and established artists are invited to submit their latest works. Here are some deadlines:
DEADLINES AND ENTRY FEES
Early Deadline: February 15, 2010 (postmarked)
Early Deadline Entry Fee: $35 (Feature film), $20 (Short film)
Final Deadline: March 15, 2010 (postmarked)
Final Deadline Entry Fee: $40 (Feature film), $25 (Short film)
Fees will be discounted $5 if submitted through Withoutabox.
AFFD is planning a special milestone celebration in 2011 for their tenth anniversary festival. Submit your film to be part of the festivities! To submit your film online, go to Withoutabox
here
. And for more information about the Asian Film Festival of Dallas, go to the AFFD website
here
.