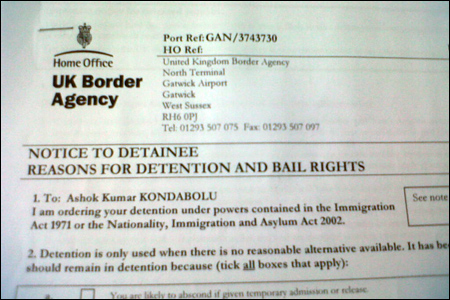 Last week, Brooklyn-based rap group
Das Racist
posted an apology to London fans for missing their scheduled show. They wanted to make it, but they were too busy being detained at the airport, then eventually sent back to Switzerland:
DETAINED AND DEPORTED
.
It's a little vague why exactly they were deported. It apparently wasn't because of their political views, but something to do with paperwork and visa issues. So they were held a in room for eight hours with some other brown people:
Yesterday, because of some sticklerism on the part of UK Customs regarding paperwork, we were denied entry, detained for 8+ hours in the airport, and deported back to Switzerland.

We were held in a room with books, prayer rug and compass, television and remote, and these horrible sandwiches (cheese and onion, egg and cress, etc.). Also, "digestive biscuits' along with Walker's crisps (Salt & Vinegar, Salt).

We were there with two Iranian men, a Brazilian woman who spoke only Arabic and an Indian man with a student visa who couldn't speak a lick of English. Our people!
Check out the rest of their account, including photos of their deportation/detention order
here
. Sounds like it was loads of fun. But I imagine they would have preferred doing the show at Cargo. Disappointing for Das Racist, and bummer for their London fans. For more on Das Racist and their music, check the website
here
.