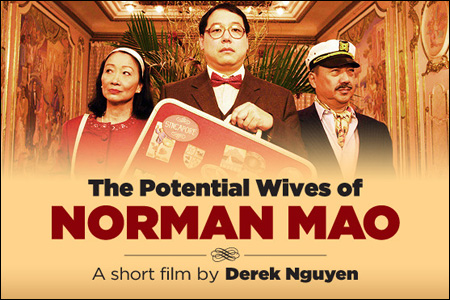 My man Ed Lin informs me about
The Potential Wives of Norman Mao
, a short film, written and directed by Derek Nguyen, that's looking for some support to get produced. And by support I mean cash.
Described as "quirky and heartwarming," the film stars Ed Lin, Tina Chen, Ron Nakahara, Cindy Cheung, Michelle Ang, Soomi Kim, Wai Ching Ho and George Takei as the narrator. Here's the synopsis:
Norman Mao is an overweight, and socially-awkward man-child from Hong Kong, who at the age of 33 is still unwed. Desperate to get him married, his parents take him on an international junket across the globe to find him a worthy Chinese wife. The Maos arrive to a New York City hotel, which is their final stop on their trip and their last hope to find Norman a bride. Having hired a professional matchmaking service, the Maos meet with three matches for Norman. Will one of these women be a potential wife for Norman or is he destined to lead a terribly lonely life?
The project has already wrapped principal photography and is
raising funds
to finish the film. They need to raise a minimum of $6,000 by January 5, and will gladly accept your support, in any amount.
Help out a humble little film? To learn more about the project, and to donate, go to the
Norman Mao
Kickstarter page
here
. Also take a lookt at the official website
here
, and the Facebook page
here
.