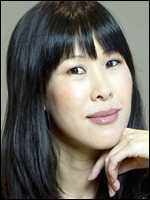 Journalist Laura Ling, former investigative correspondent at Current, who hopefully will not be forever known as "one of the reporters who got captured by North Korea," is returning to the airwaves with a new job at E! Entertainment:
Laura Ling on a new beat with 'E! Investigates.'
This week, Ling debuts as the new face of
E! Investigates
, an offshoot of the signature
True Hollywood Stories
. Think more serious fare for E! audiences, without a Kardashian in sight. Her first show is an examination of teen suicides, followed by report on the struggles of military wives that will air next week:
"It may seem strange, but this really does connect with my background in documentary storytelling," said Ling, who covered numerous in-depth and topical stories such as slave labor in the Brazilian Amazon, the drug war in Mexico and Internet censorship in China for Current while serving as its vice president. "It gives me an opportunity to reach out to a younger audience that has been underserved, and being here presents a great new challenge for me."

Ling noted that the audience demographic for E!, which is largely female, will be receptive to having more serious fare mixed in with the glitter. "These stories will look at what is going on in their lives - issues that need more attention than what most news organizations are willing to give," she said. "My passion has always been to reach that audience."
It's great to see her getting back to work as a journalist -- not to say she hasn't been busy. After she returned from North Korea, she became pregnant, had a baby and co-wrote a book with her sister Lisa. I'm thinking this new gig won't be taking her anywhere quite as dangerous as the North Korean border.
To learn more about Laura Ling harrowing experience in North Korea, check out her book
Somewhere Inside: One Sister's Captivity in North Korea and the Other's Fight to Bring Her Home
.