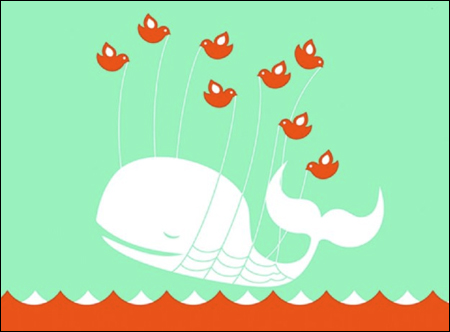 If you're a frequent user of Twitter, you'll probably recognize the illustration above. It's image that appears when Twitter is overloaded and can't quite function. It's the most famous failure on the internet.
The
San Francisco Chronicle
recently ran a story on Yiying Lu, the artist behind the "fail whale" -- her most famous illustration -- which has apparently inspired a fan movement":
Yiying Lu makes splash with Twitter's 'fail whale.'
Through Twitter, the whale has become a sign of the times. This year, the popular San Francisco microblogging service sent an astonishing 25 billion messages of 140 characters or fewer and added 100 million new users.

Though the fail whale doesn't appear as frequently as it once did on Twitter, it lives on. It has inspired a fan club, two parties and at least one tattoo. Last month, for the premiere of his new show, Conan O'Brien commissioned Lu to create the "pale whale," which depicts the comedian riding on top of a whale as it is being carried by birds.

The whale has also helped part the waves for a new startup, Walls 360, an online store that sells prints and wall graphics, including a line of fail whales and its friends. Lu, a co-founder, was in San Francisco this month to kick off the site and hold her first solo art exhibit at the Hotel des Arts.
Pretty awesome, considering that the whale was originally just an image Lu uploaded for use on iStockphoto (she was paid a small one-time licensing fee, but didn't earn any royalties for its repeated use). It has opened up a lot of great opportunities for her. For more information on Yiying Lu and her art, go to her website
here
. And of course, you can follow her on Twitter
here
.