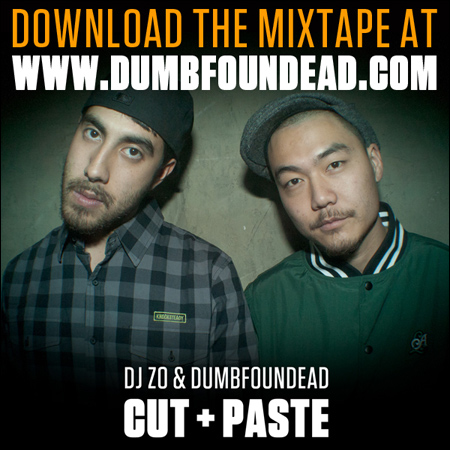 Hey! You want to hear some free music? Los Angeles emcee
Dumbfoundead
and DJ Zo have just dropped a free six-track mixtape,
Cut + Paste
, a collection of unauthorized remixes. Here's a little promo video with Dumbfoundead giving a little background on mixtape:
Like he says, it leans heavily towards the experimental. But I've been listening to it all weekend, and I'm digging it. Here's the track listing, or as Dumbfoundead calls it, "six tracks of dopeness":
1. Zonin'
2. No Strings Attached
3. This Life
4. Crushing Limbs
5. Overseas
6. Love Psycle
The whole thing is available as a free download
here
. Good stuff. For more information about Dumbfoundead and his music, head over to his website
here
. Also check out some sweet DFD merchandise at
Knocksteady
.