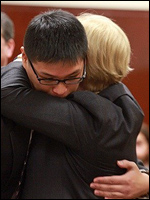 Yesterday in New York, a Manhattan jury found 18-year-old Victor Fong not guilty on all charges related to the Chinatown stabbing death of Nelson Pena last November:
Victor Fong Not Guilty of Murder in Chinatown Stabbing
.
He was accused of murdering Pena and slashing Vincent Rivera in the neck during a street fight where Fong and two friends were jumped by a group of other teens. While Fong admitted to slashing Rivera in self defense, he denied any involvement in stabbing Pena.
Fong was charged with second-degree murder, attempted murder and two assault charged. If convicted, he would have faced up to life in prison. But it sounds like the prosecution had a pretty weak case against him:
Jurors reached their verdict after about three hours of deliberations that began at the end of the day Monday and resumed Tuesday morning.

One alternate juror, who asked that his name not be used, called the trial a "very disturbing case."

The 40-year-old juror, a teacher who lives in Harlem, called the prosecutor's case "pretty weak and full of doubt." He added that he was "happy for Victor" for standing up to his aggressors in the fight, and said he almost cried during Fong's testimony.

"I was kind of impressed by his character," the man said of Fong's testimony. By comparison, he thought the prosecutor's witnesses with alleged gang affiliations were "losers."

The sentiment was echoed by two other female jurors who also asked not to be identified because of the gang members affiliated with the case.

Both of the women said they felt sad that the verdict left the family of Nelson Pena without any closure in his death. But they said the insufficient evidence linking Fong to the murder left them with no choice but to acquit him, for fear of putting an innocent man behind bars.

"Stories of the people who did take the stand were inconsistent at best," one of the female jurors said. "In the end we all decided he was not guilty. It's not appropriate to put the wrong person behind bars."
Wow. This is a story that turned out to be completely different from what
The New York Times
originally reported
about Pena's death over a year ago, saying that the assailants (aka Victor and his friends) attacked Pena because they were upset "over a look."
That account appears to be false at almost every turn. And I'll admit, I pretty much took it at face value at the time. With all the facts coming out in the trial, I'm glad to be proven wrong -- especially since an innocent teen's life was on the line. More here:
Teen, Victor Fong cleared of murder charges in slay of 18-yr.-old in Chinatown stabbing
.