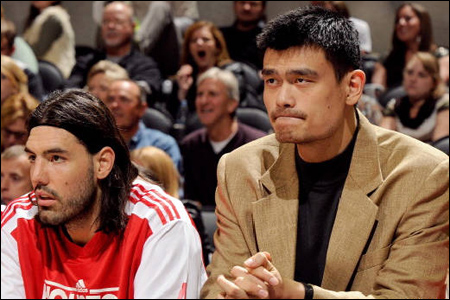 Aw man. Yao's out. Looks like Houston Rockets center Yao Ming won't be playing anytime soon. He's reportedly out indefinitely after a stress fracture was discovered in his left ankle this morning:
No timetable for Yao Ming's return
.
He was hoping to back in action in a few weeks after recovering a bone bruise in his left ankle. But a routine a exam this week discovered his injury sustained last month in a game against the Washington Wizards:
Yao was surprised by Thursday's discovery because he had no pain in his foot or ankle. The fracture is not in the area reconstructed by surgeons two summers ago in hopes of alleviating the foot and ankle problems that had forced him to miss 86 regular-season games over a three-year span.

He had missed two games over his first three seasons in the NBA, despite an annual offseason schedule playing for the Chinese National Team.

Yao had prepared himself for anything since having his left arch surgically lowered in an attempt to reduce the stress on his foot and ankle.

The same surgery alleviated similar issues for Miami Heat center Zydrunas Ilgauskas, who has since played more than 700 games without a recurrence.

But Ilgauskas is also at least 50 pounds lighter than Yao and was in his early 20s when he had the surgery. Yao turned 30 in September.
This is yet another setback for Yao, who missed all of last season with a broken bone in his left foot. It does makes you wonder how much time he might have left with the Rockets -- this is the final year of his current contract.
In the meantime, Yao and the Rockets will take the next few days to look over tests, figure out some options and make a decision next week about how to move forward. More here:
Yao career in jeopardy as injury returns
.