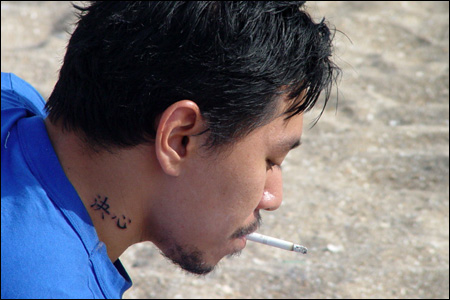 Once again, it is time to meet the
Angry Reader of the Week
, spotlighting you, the very special readers of this website. Over the years, I've been able to connect with a lot of cool folks, and this is a way of showing some appreciation and attention to the people who help make this blog what it is. This week's Angry Reader is Ben Chan.
Who are you?
I'm THE Ben Chan, son of Yan Wong Chan and David Chan, big brother of Jackea (pronounced "Jackie") Chan.
What are you?
ABC (American Born Chinese); Native New Yorker; law school grad; community organizer; history geek; boxing statistician and lover of brussels sprouts.
Where are you?
New York City sitting in my office listening to A Tribe Called Quest. Can I kick it?
Where are you from?
I was born and raised in Brooklyn, New York and I currently reside in Queens (the most diverse county in the world). My dad's family left China shortly before the Communists took over in 1949. They escaped to Hong Kong and then immigrated to America in the late 70's. My mother's parents left China shortly before the Japanese invaded in the late 30's. They got on a ship and ended up in Madagascar where my mother was born and raised.
What do you do?
Lots of stuff...
I recently graduated law school. I was an evening student holding down a 9-5 as a paralegal at the Center for Family Representation (
CFR
). CFR is a legal services non-profit that assists parents in crisis who cannot afford legal representation.
I'm studying for the February New York Bar Exam. I skipped the July exam so I could enjoy watching the world cup. I couldn't travel to South Africa so visited the ethnic enclaves in NYC to watch each game with a different community. My favorite experience was watching Ghana in the Bronx with the rowdy Ghanaians.
On weekends, I volunteer as an instructor at the Pace University Upward Bound Program. Pace UB is a college prep program that works with low income students who will be the first in their family to attend college. I've been volunteering there for a decade and have taught a theater course, a NYC history course, and a boxing history course among other things. I'm currently teaching a class called "Know Your Rights." It's a class that focuses on the practical implications of the Bill of Rights.
My other weekend gig is doing PunchZone for HBO Boxing. Whenever there's a fight on HBO, I'm one of the dudes that tracks how many punches land and on which parts of the body they land. I've doing that for almost a year and did my first Pacquiao fight in November.
I co-host
Fight City NYC
on Manhattan's public access channel, Manhattan Neighborhood Network. My buddy from PunchZone, Aris Pina, and I talk about what's going on in boxing and mixed martial arts with a focus on the NYC fight scene. Check us out Mondays 7pm at mnn.org. Join our group Fight City NYC on facebook, check out our website and buy a shirt!
Additionally, I'm the co-chair of the Asian American Bar Association of New York's (
AABANY
) Student Outreach Committee. We plan academic, networking and social events for law students in the New York/ New Jersey area. You should join. It only costs $5!
I'm also the Vice President of Community Affairs for the Organization of Chinese Americans (OCA) Long Island-Queens chapter. I moderated candidate forums and represent OCA-Long Island at community events.
When I'm not doing all that stuff, I sing 80's and 90's power ballads at karaoke, dole out relationship advice to all my friends (while reminding them that I'm single) and walk around the streets snapping my fingers trying to figure out what song is playing in my head.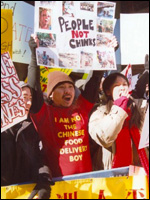 What are you all about?
Making time for the things that are important and showing up.
In 2005 I met Corky Lee at a protest outside of Hot 97 (he's the one who took that photo). He invited me to crash AABANY's annual gala. I showed up, hustled my way to a table with the Asian American Legal Defense and Education Fund crew and then crashed the after-party where Corky introduced me to, the guest of honor, Dale Minami. Dale graciously talked to me for about half an hour about law, the Black Panthers and life. He gave me this nugget of wisdom. "I get invited to a lot of things and I used to tell people I was too busy. Then I realized that was bull. If something is important, you make the time and you show up."
I wouldn't be where I am today if people hadn't shown up for me so I do my best to show up to pave the way for others.
What makes you angry?
- Slow moving tourists
- Hipsters
- The Metropolitan Transit Authority
- Inefficient bureaucracy
People who talk the talk, but don't even attempt to walk the walk. "We must become the change we want to see in the world." - Ghandi