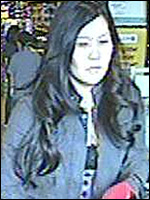 Asian behaving badly... Red Glove Bandit edition! Police in Elk Grove, California are looking for a woman wearing red gloves -- and yup, it appears that she's Asian -- who is suspected of holding up a sandwich shop and attempting to rob a supermarket earlier this month:
Elk Grove PD hunting for red-glove bandit
.
First, she held up a Subway. Then that same weekend, Ms. Thief tried to a rob a Safeway supermarket, but reportedly ran into a bit of a snag in her brilliant heist when the clerk couldn't understand the wording on her holdup note:
Police said a woman entered the Subway, 5030 Laguna Blvd., about 8:30 a.m. Saturday and handed an employee a note demanding money and indicating she was armed.

The robber was handed cash and was last seen driving away in a silver Volkswagen.

On Sunday at about 12:30 p.m., a woman whose image was captured on security cameras approached a customer service clerk at the Safeway, 5021 Laguna Blvd., and handed the employee a note similar to the one used in the Subway robbery.

However, the clerk, unsure what the note said because of the wording, left the customer service desk to speak with a supervisor, police said. The suspect then left the store and was last seen driving away.
The suspect is described as an Asian woman in her late twenties, 5 feet 5 inches tall and weighing about 130 pounds. She had long, wavy black hair was wearing a gray jacket, red gloves, black skirt and black boots. Her vehicle is believed to be a dark silver or gray Volkswagen Passat. Anyone with information is asked to call Elk Grove police detectives at (916) 478-8060 or Crime Alert at (916) 443-4357.