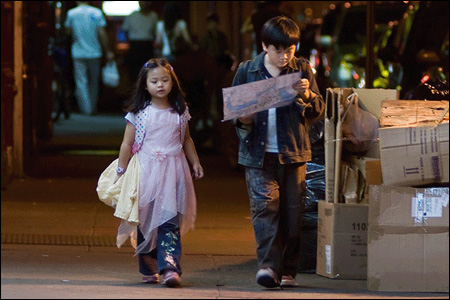 All right, film fans. If you've been reading this blog for a while, you know that I'm a huge fan of Tze Chun's independent drama
Children of Invention
. I saw the film at its world premiere at the 2009 Sundance Film Festival, and I've been a fan ever since. Now, you can be too, because it's streaming free on Hulu
right now
. Heck, I've embedded the video so you can watch it right here:
You may have missed
Children of Invention
on the film festival circuit, and you might not have caught it during its limited theatrical run, and for whatever reason, you've failed to acquire it on DVD. Now you don't have any excuse! The entire movie is right here in front you, through the amazing power of the internet. Just press play.
By the way, if you live in the New York City tri-state area, you can also catch the film free on local PBS station Channel 13. Air times are Saturday, January 22, 10:40pm; Sunday, January 23, 2:00am and Wednesday, January 26, 1:00am.
And if you really like
Children of Invention
, you can purchase the
Deluxe Collector's Edition DVD
(with deleted scenes, commentary tracks, audition tapes, and cast interviews) for your collection. For more information about the film, including upcoming screenings, go to the
Children of Invention
website
here
.