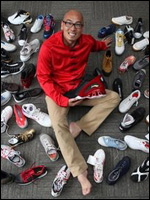 Here's an interesting Associated Press article on Chinese sports brand Li-Ning, which is making an attempt to break into the highly competitive, super-saturated U.S. market:
China sports brand tries to break into US market
.
Since there's no use in trying to "out-Nike" Nike, the Chinese shoemaker is trying something a little different in low-budget viral marketing with an irreverent
YouTube video
(featuring comedian Gerry Bednob) poking fun at the brand's Chinese origins. Check it out:
While China is now the world's second-biggest economy, it has to produced a brand with true global name recognition (i.e. Apple, Sony, Nike). Li-Ning is well aware that introducing the brand to the United States is going to be a delicate process:
"It's a process of finding out — while staying true to our heritage, our brand — what side of our DNA is going to resonate with the American consumer," said Jay Li, general manager for Li-Ning International. "We're still searching, to be perfectly honest with you. And we're not in a hurry."

Americans might remember Li Ning (pronounced lee-NING) as the final torchbearer during the opening ceremony of the 2008 Beijing Olympics — the former gymnastics gold medalist who "ran" along the opening in the stadium roof while suspended by wires.

His namesake company is a top domestic brand in China's lucrative athletic shoe and apparel industry, with more than 7,900 stores across the country. Though it has forecast slumping sales and a one percentage point decline in gross profit margin in 2011, CEO Zhang Zhiyong recently told the Wall Street Journal that Li-Ning plans to invest $10 million in U.S. operations this year.

"Our founder Mr. Li Ning has always said his vision was never about building China's Nike, it's about building the world's Li-Ning," Li said. "You can't be global without having a legitimate claim of market share in the most mature sporting goods market."
When I first encountered Li Ning while vacationing in China, I'll admit, I couldn't help but notice that the brand's logo bears a strong resemblance to Nike's instantly recognizable "swoosh." Li-Ning's definitely got its work cut out for it. But I'm curious to see if and how they pull it off.