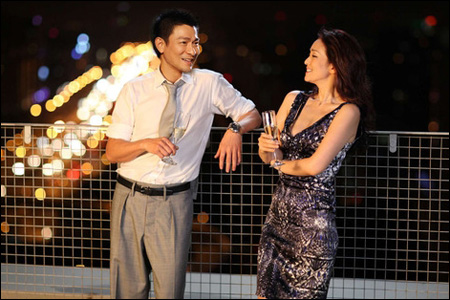 A little while back, I mentioned the upcoming Mandarin-language remake of
What Women Want
, directed by Chen Daming, and starring Andy Lau and Gong Li. According to film distributor China Lion, the romantic comedy will open at select North American theaters on the same day of its China premiere on February 3, the first day of the Lunar Near Year:
China's 'What Women Want' Remake to Get Day-and-Date U.S. Release
.
The romantic comedy produced by Beijing-based and New York-listed Bona Entertainment Co. is based on the Paramount Pictures film of the same name directed by Nancy Myers a decade ago.

Working from a screenplay by Josh Goldsmith and Cathy Yuspa, director Chen adapted the story that revolves around a chauvinistic executive, originally played by Mel Gibson. Now played by Lau, who gains the ability to hear what women are thinking, a power that leads to a fraught and comedic romantic relationship with his workplace rival, an aggressive advertising executive first played by Helen Hunt and now played by Gong.

Lau, the Hong Kong actor-singer, who holds the Hong Kong Guinness Record for the most music awards, has starred in over 100 films, including Infernal Affairs, House of Flying Daggers and the 2010 Chinese box office hit Detective Dee & The Mystery of the Phantom Flame.

Gong was first noticed in the West for her 1987 appearance in Zhang Yimou's directorial debut, Red Sorghum, and has gone on to star in Chinese classics such as Raise the Red Lantern and Farewell My Concubine, and crossed over into Hollywood films such as Memoirs of a Geisha and last year's Shanghai.
China Lion, which started putting Chinese-language films into AMC cinemas in the U.S. and Canada last year, will open
What Women Want
in Los Angeles, San Francisco, New York, Toronto, Boston, Seattle and Washington D.C., as well as theaters in Australia and New Zealand. For a list of theater locations, go to the China Lion website
here
.