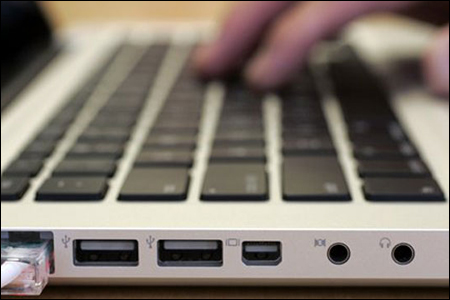 I almost don't believe this... Some crazy news out of Oklahoma City about Sook Shin, a cancer research scientist who got her laptop computer stolen. But this wasn't just any laptop. This was a laptop containing several years of data and the possible
cure for cancer
. Yes, cancer. Stolen from her car:
Computer Stolen In Oklahoma City Contains Research To Cure Prostate Cancer
.
Shin and her husband are leading cancer researchers at Oklahoma University. They've dedicated long hours, often seven days a week, for several years, to find a cure for prostate cancer. And it looks like that cure could be gone for good, thanks to some sucka thieves who took the computer from a Panera Bread parking lot:
The couple stopped at Panera on north Western Avenue to grab a meal before heading back to the lab. When they finished, they found their car windows broken and the laptop gone.

Unfortunately, most of the data was never backed up, a mistake Shin said could be a major setback in the fight against cancer.

Some of that data can never be replicated. Other parts of that research could take up to two years to do over. That's earth shattering considering 30,000 men die in the U.S. every year from prostate cancer, meaning people could lose their lives all because of a crime.

"Please return the computer with the data saved. This would tremendously help us and you would do something for society," said cancer researcher Ralf Jankecht.
This makes absolutely no sense. These two scientists are purportedly intelligent enough to develop a possible cure for cancer... yet they can't summon the brain energy to back up their precious research? A word of advice: if you've got "the power to save millions of lives" on your freaking computer, you back that shit up regularly.
The computer is a 13-inch white Macbook in a dark orange laptop case. They've reportedly posted flyers at nearby pawn shops, and are offering a $1000 reward for the safe return of the laptop, no questions asked. I wouldn't hold my breath on that. More here:
Stolen laptop contains cancer cure data
.