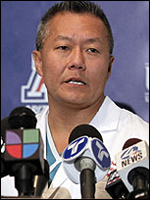 By now, you've heard about the tragic shooting rampage in Tuscon that took the lives of six people and critically wounded Rep. Gabrielle Giffords. If you were watching the news on Saturday afternoon, you might have seen Dr. Peter Rhee, chief of trauma at University Medical Center in Tuscon, briefing the press about Giffords' condition.
While the shooting left Rep. Giffords with a gunshot wounds through her brain, she was fortunate enough to be wheeled into the emergency room of Dr. Rhee, a uniquely qualified 24-year military surgeon who has treated hundreds of violent battlefield injuries during stints in Iraq and Afghanistan:
Giffords' surgeon trained on the battlefield
.
"There's no doubt," he said. "I was in the Navy 24 years, and I trained to do nothing but battlefield casualty care. When I did go to Afghanistan and Iraq, I wasn't in a hospital. I was in very forward surgical units, so I was very accustomed to working with very little gear and people and personnel, very little resources, with wounds that are very different than civilian injuries," Rhee said Sunday. "Did it prepare me? I would say of course it did. And that makes it so that when we have a mass casualty of 11 people here, it's really not as bad as it can get."

Rhee said he handled "hundreds and hundreds" of battlefield injuries in two war deployments beginning in 2001. He was one of the first battlefield surgeons to be deployed to Camp Rhino, the first U.S. land base in Afghanistan, located in the remote desert about 100 miles southwest of Kandahar. In 2005, he served in Iraq.

"This doesn't compare," he said of his university hospital environs. "This is not really a mass casualty. I have all the gear and people I could possibly want. This is luxury for me. This trauma center, this is about as good as it gets."
"Luxury"? Wow. That's the kind of confidence that can only come from treating "hundreds and hundreds" of traumatic injuries, with a lot less equipment and personnel, as a battlefield surgeon. In addition, Rhee spent five years as a trauma surgeon at Los Angeles County-USC Medical Center, where he typically would treat thirty gunshot wounds a day. Sounds like this guy was the right doc for the job. More here:
Gabrielle Giffords shooting: Battlefields prepared surgeon
.
UPDATE: Here's another story in the
New York Times
on the guy who, for a minute, has become the most famous trauma surgeon in America:
Surgeon and Sudden Celebrity, and Trying to Balance the Roles
.