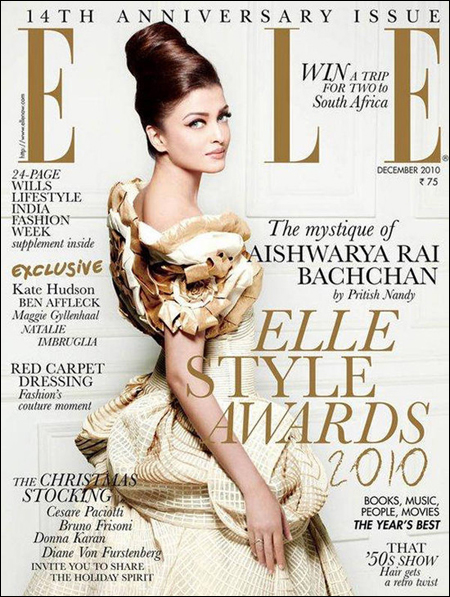 Been hearing a lot about this... So Indian actress Aishwarya Rai, aka the most beautiful woman in the world, appears on the January cover of
Elle
India magazine, but somehow her skin appears several shades paler than it actually is -- and she is not happy about it:
Aishwarya Rai Bachchan Might 'Take Action' Over Elle India Cover
.
Not only does it look like her skin has been lightened, her dark brown hair appears to be practically red. India already has a billion-dollar skin-whitening industry. So what the hell does it mean when
Elle
needs to mess with the skin of the most beautiful woman in the world? Change.org has started a
petition
calling for an apology from the magazine:
To see magazines like Elle further enforce the color hierarchy of crossover appeal by making Aishwarya appear lighter-skinned is a slap in the face.

This is the second racial debacle surrounding Elle. The American version was criticized for its October 2010 issue, which featured actress Gabourey Sidibeon on one of its four celebrity covers with noticeably lighter skin than her natural complexion.

Lets tell Elle Magazine to make a commitment to moving away from using white as a standard for beauty, and demand a public statement and apology.
Photo retouching is a pretty common occurrence in fashion publishing. But this is ridiculous. The petition currently has close to 50,000 signatures. For more information, and to add your name, go here:
Elle Magazine: Apologize for Trying to 'Whiten' Indian Skin
. More here:
ELLE Cover Lightens The Most Beautiful Woman in the World
.