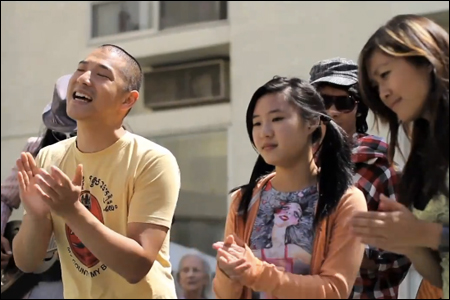 Check out this cool new YouTube video, a cover of Macy Gray's
"Beauty In The World,"
featuring my friend
Dawen
and -- I kid you not -- fifteen other collaborators. Born out of a day of community service, it's pretty epic, with some of my favorite people popping in from all over the country to lend their musical talents. Take a look:
In case you're keeping track, the video features:
Dawen
Connie Lim
Mista Cookie Jar
Ava Flava
Michelle Martinez
Tommy C
Jane Lui
Sam Geunjin Kang
DanakaDan
(afterschoolspecial)
Chris Pham
(Seriously)
Nathan Park
(Seriously)
Megan Lee
Alfa
Clara C
Paul Dateh
And yes, that is indeed
Macy Gray
herself popping in at the end there. Big props to Dawen and producer George Wang for coordinating and putting the whole darn thing together -- a project that was six months in the making. Next time, go even bigger. Now this song's going to be in my head all day.