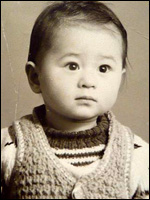 This is a crazy, amazing
Los Angeles Times
story about a family that was reunited with their missing, long-lost daughter after 37 years -- through a Facebook posting:
For Korean American family, an ache 37 years long
.
It all started when a Steven Inman resolved to find out what had happened to his older sister, who he believed had been abducted in South Korea decades ago, before he was born. So started with a Facebook profile:
He decided to create a Facebook profile for "Sally Inman (missing child)." He posted 12 photos of her and wrote that she had been abducted.

Nothing happened. He became lost in his work, editing video of mixed martial arts fighting and raising Miyka, the baby boy he had with his wife, Donya. The day after New Year's, he was relaxing, watching the Food Network, when his cellphone rang. Not recognizing the number, he let it go straight to voicemail.

He waited for the voicemail to finish, then listened.

"Steve, I was on Facebook and I noticed you were looking for your sister and I read the whole thing . . ." Her voice sounded faintly Southern. "And I would like you just to give us a call because the girl you're looking for is actually my mom."
It's a pretty darn amazing story. Read the rest
here
. I'm willing to bet reuniting long-lost family members wasn't necessarily part of Mark Zuckerberg's original vision for Facebook... but there you go.