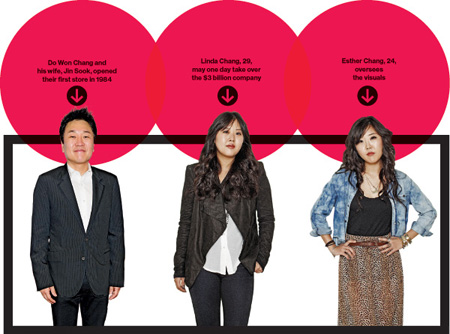 BusinessWeek
has a really interesting, lengthy profile on the insanely successful cheap-chic clothing chain Forever 21, and the Changs, the Korean American family behind the $3 billion, 477-store (and counting) apparel empire:
Forever 21's Fast (and Loose) Fashion Empire
. If it seems like their stores are popping up everywhere, it's because they are:
The store is the third the company has opened in just two weeks and the hundredth in the past year. Forever 21 has been quick to take advantage of the misfortunes of other retailers, moving into buildings abandoned by Saks (SKS), Sears (SHLD), Mervyns, Dillard's (DDS), Circuit City, Virgin Megastore, and HMV. It's staked out some of the most prestigious real estate in the world—on this stretch of Fifth Avenue, on London's Oxford Street, in Tokyo's Shibuya district. Its new Times Square store is 96,000 square feet; its store on the Las Vegas Strip is 127,000. In seven years, Forever 21 has grown from 1 million square feet of space to 10 million, from one brand of its own to six, offering clothes for kids, men, and plus-size and pregnant women. This year it plans to open at least 75 more stores in five countries. Forever 21 had a profit of $135 million in 2008, the last time it made figures public. And it did all this without selling any item for more than $60.
Pretty impressive, considering that the Chang's empire started with just one humble little store "in a gritty section" of Los Angeles' garment district in 1984. They've been incredibly savvy, and incredibly successful.
However, Forever 21's enormous success has not come without its share of controversy. The company has a faced a number of lawsuits alleging unfair labor practices and wage violations, including a sweatshop suit litigated by our friends at the Asian Pacific American Legal Center back in 2001:
The Changs' reluctance to open themselves and their company to more scrutiny may stem from the many lawsuits they've faced. In September 2001, the Asian Pacific American Legal Center and the newly created Garment Worker Center filed suit against Forever 21 on behalf of 19 workers, alleging unfair business practices and wage violations. The workers were sewing at seven different small factories—they called them sweatshops—that had all been contracted to produce garments for Forever 21. This was just a few years after some 70 Thai garment workers had been freed from near-slave conditions in El Monte, Calif. Julie Su, the lawyer who won the women a $4 million settlement and legal status (and later a MacArthur "genius" award for herself), was the lead attorney in the case against Forever 21.

The company, like many caught up in similar allegations, said it didn't know about and wasn't responsible for the working conditions in these factories. "It's impossible to claim ignorance when the problem is so rampant," says Su. "Forever 21 is not a victim of the industry. They create and demand these conditions. They squeeze their suppliers and make it necessary for them to get things done as quickly and cheaply as possible, no matter what the cost to the workers."
And of course, there's the pesky accusation -- and about fifty different lawsuits -- that Forever 21 regularly steals clothing designs from other labels:
By then, Forever 21 was facing a new and altogether different wave of litigation. Starting in about 2004, the Changs decided to create different brands to appeal to slightly more sophisticated and older shoppers. Over the next couple of years, labels ranging from Diane von Furstenberg to Anna Sui to Anthropologie, about 50 in all, separately sued Forever 21 for copying their clothes. The company said that its buyers had to trust its vendors and couldn't possibly know how those vendors came up with all their designs.

U.S. copyright law protects only original prints and graphics, not designs themselves, making some cases hard to prove. Von Furstenberg, Sui, and Anthropologie did win settlements, though, which also remain confidential. The legal documents are sealed now, but when they were available, Women's Wear Daily excerpted a reprimand of Forever 21 by the U.S. District Court judge hearing Anthropologie's case. "We note the extraordinary litigating history of this company, which raises the most serious questions as to whether it is a business that is predicated in large measure on the systematic infringement of competitors' intellectual property," Judge Michael H. Dolinger wrote on Mar. 12, 2009.
Nothing that a few thousand bucks here and there won't fix. According to the copyright law expert quoted in the article, Forever 21 actually treats liability as a cost of doing business. The company fervently avoids going to trial, and they've basically incorporated illegal copying -- and resulting claims -- into their business model. A copyright infringement budget! That's gangsta.
Overall, it's a fascinating article, and really recommend giving it a
read
. On one hand, it's the story of the American Dream: an immigrant family's faith, incredibly focused business savvy and extraordinary success. On the other hand, you could also see it as a story of exploitation, copyright infringement and profit-by-any-means-necessary -- in a way, also the American Dream.