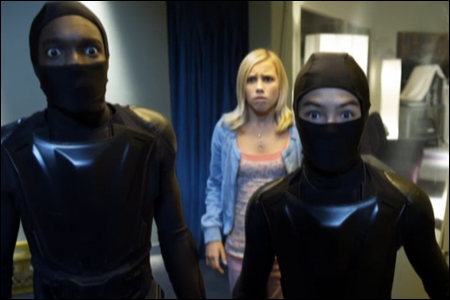 I don't regularly watch Nickelodeon, but I might tune in to catch the networks's upcoming family-oriented action comedy
Supah Ninjas
, about a group of "crime-fighting, butt-kicking, and villain-battling" kid ninjas. The cast includes Ryan Potter and Mike Fukanaga and none other than George Takei as Grandpa, aka
"Hologramps."
Yeah. Here's the trailer:
Okay, so between the holographic grandfather and the wise-cracking Black best friend/sidekick, it looks pretty silly. But I'm not really the target demographic. Here's the series description, according to the Nickelodeon website:
Mike Fukanaga thought dealing with his jokester best friend, Owen Reynolds and trying to win the heart of his long time crush Amanda Mckay would be the biggest challenges in high school. Boy was he wrong. When Mike discovers that he comes from a long line of ninjas, he's ushered into the exciting world of crime-fighting, butt-kicking, and villain-battling. Mike & Owen team up as "Supah Ninjas" and begin training with Mike's grandpa a.k.a "Hologramps." Too bad it's not as easy as it sounds -- between dealing with drama at school and fighting super villains, these Supah Ninjas are in for one tough battle.
I can appreciate some positive Asian TV heroes for kids, even if it does trade a bit on some of the old martial arts stereotypes. I also appreciate that our friend
Randall Park
is in the cast as Martin, Mike's father. More on George Takei's character:
Star Trek's George Takei Joins New Nickelodeon Series
.
For more information about
Supah Ninjas
, go to the Nickelodeon website
here
. The series premieres in the spring, but Nick is airing a special preview on January 17. Set your DVRs, my ninjas.