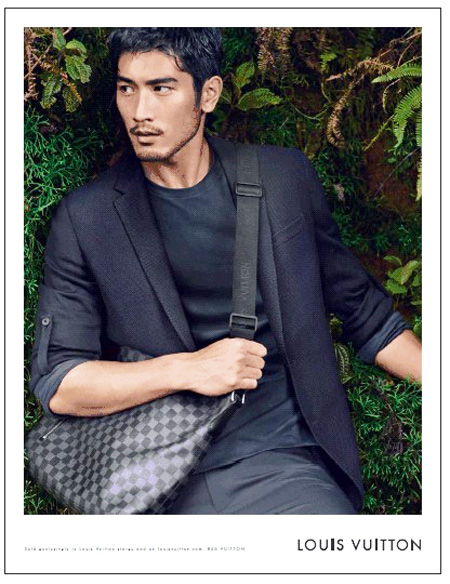 Last week, Louis Vuitton unveiled a new advertising campaign featuring Taiwanese Canadian actor/model Godfrey Gao, who just happens to be very good looking. This is apparently the first time the French luxury brand has used an Asian man to showcase its products:
At LV, This Year's Man is Chinese
.
Gao, who hails from Vancouver, has appeared in a number Taiwanese television dramas, including
Volleyball Lover
and
I Want to Become a Hard Persimmon
(something must have gotten lost in translation there). And LV is hoping his pretty face will continue the company's growth in Asia:
Tabloid gossip aside, the move by the French brand can be interpreted as an acknowledgment that this key demographic has been behind the company's extraordinary growth this year. Parent company LVMH - which also owns brands like Sephora makeup, Hennessy cognac and Moët & Chandon champagne –posted a 26% jump in sales over the first nine months of 2010 compared with the same period the year before. And analysts say its flagship Louis Vuitton brand was responsible for the bulk of that growth.

The company doesn't break down its sales by gender, but according to other reports, men spent more than women on luxury goods in China last year. Indeed, a walk through any major Chinese city's business district shows that the Louis Vuitton brand is popular: As Mr. Gao appears in the brand's advertisement, the LV man bag - worn across the body, of course - is a standard status symbol among men, especially middle-age ones.
Ah, when there's cash to be made, the Asian man suddenly becomes a viable face for the brand. And Asians certainly do have an affinity for Louis Vuitton. So... great for you, Godfrey Gao! That said, you probably won't see me rocking one of those man-bags any time soon.