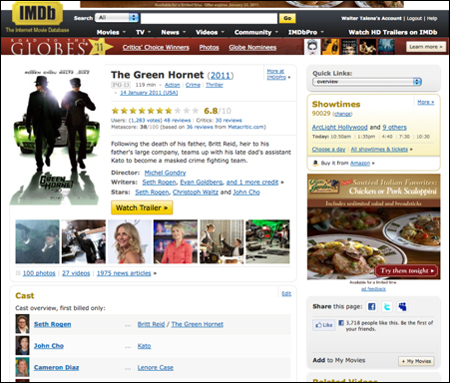 So
The Green Hornet
was number one at the box office weekend, taking in $34,000,000 in domestic ticket sales. I guess that means a lot of people saw the Hollywood movie debut of Taiwanese pop star Jay Chou as Kato, the better half of the Green Hornet crime fighting duo. But did moviegoers think they were seeing Jay Chou... or John Cho?
On Saturday, I got a flood of emails from folks informing that the Internet Movie Database's entry for
The Green Hornet
was incorrectly listing John Cho (
Star Trek
,
Harold and Kumar
) in the role of Kato. Looks like somebody screwed up. Then again, you know what say about those Asians looking alike. The listing has been corrected, but we've got the screen shot above. (Thanks, Walter.)
Suddenly,
this tweet
makes a lot more sense.
Oh, and in case you saw the movie and just can't get enough of that Jay Chou, the guy who is most certainly not John Cho, here's
Hyphen's
interview with Jay Chou:
Jay Chou: 'The Green Hornet''s Kato, in His Own Words
.
Also check out You Offend Me You Offend My Family, where they've got a great capsule history of
The Green Hornet
, and more importantly, the character of Kato:
All About Kato…er…The Green Hornet
.