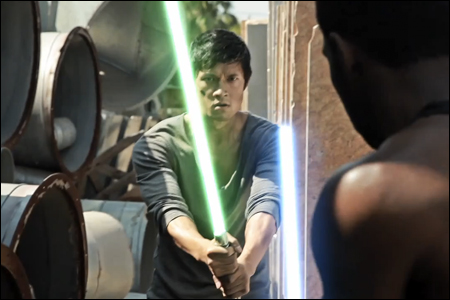 It's here! After two short-but-tantalizing teaser trailers, the action-packed new short film
3 Minutes
is finally live and ready for viewing. Directed by Ross Ching, and starring Harry Shum Jr. and Stephen 'tWitch' Boss, it's a crazy little action thriller, with a taste of asskicking to start off your week. And yes, it really is just three minutes long. Take a look:
Guns! Lightsabers! Fight choreography! Definitely a different side of the Shum -- you've never seen him make those moves on
Glee
before. It's a fun little short that'll definitely get people talking. Leaves you wanting more, doesn't it? According to Harry, there will be a prequel and sequel, so stay tuned. For more information about the film, go to the
3 Minutes
website
here
.