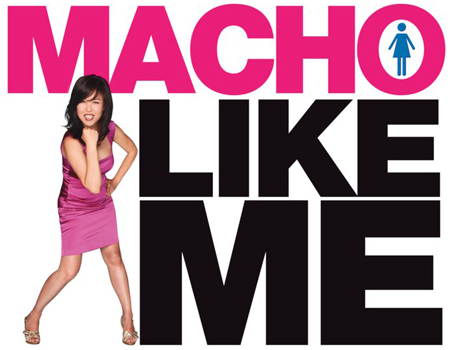 If you're in the Los Angeles area, I highly recommend checking out writer/performer Helie Lee's world premiere play and theatrical documentary
Macho Like Me
, the true account of one woman's remarkable six-month journey living life as a man. It premieres Saturday, January 14 and runs through Sunday, February 13 at the Coast Playhouse in West Hollywood. Take a look at the
trailer
:
Here are some more details about the show:
Macho Like Me

January 14 - February 13
8:00 pm

Coast Playhouse
8325 Santa Monica Blvd
West Hollywood, CA

Macho Like Me is the true account of Helie Lee's remarkable six-month journey living life as man. Cutting off her hair, donning men's clothes and moving out of her home to begin life anew as Harry, Helie sets out to prove a point: that men have it so much better than women. But as Helie soon finds out, her assumptions are quickly dashed - resulting in a new world-view that ends up surprising many - especially herself.
Helie is a hot mama and one talented, amazing lady with a show that is guaranteed to surprise, provoke and entertain. To purchase tickets, go
here
. For group sale (15+ tickets) inquiries, contact 310-720-2388 or info@macholikeme.com. To learn more about Helie Lee and for further information about the show, go to the
Macho Like Me
website
here
.