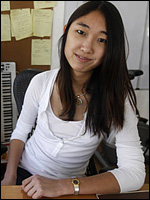 Here's a cool
San Francisco Chronicle
article from last week on Jessica Mah, a UC Berkeley computer science graduate who recently launched her latest startup, inDinero, a program that processes small business' financial data into usable information:
Young UC grads help entrepreneurs with inDinero
.
At 20 years old and fresh out of college, Jessica is already an experienced Silicon Valley entrepreneur. Originally from New York, she finished high school at 15 and founded her company before graduating from college last spring:
Even in Silicon Valley, where there's no shortage of young entrepreneurs, Mah stands out.

Originally from New York City, she finished high school at 15, attended an early college program called Simon's Rock, transferred to UC Berkeley and graduated in the spring.

Just before graduation, she and inDinero co-founder Andy Su, a fellow 19-year-old computer science graduate, were accepted into Y Combinator, which offers funding and guidance for startups in their earliest stages.

They spent the summer building inDinero, which is based in Mountain View, and by September had raised more than $1 million in funding. Now they're busy growing and hiring to add to their team of seven.

"Finding a young entrepreneur who has already been a small business owner multiple times over and knows the space personally is very rare," said Ali Partovi, a serial entrepreneur and one of inDinero's investors. "That combination is what made it appealing for me."
At age 20, I seriously lacked the motivation to even flip to page two on a course syllabus, and I definite wasn't brainstorming like Jessica about "big problems in the world that weren't being solved very well." Impressive. More here:
Change Generation: Jessica Mah and inDinero.com Make Business Finance Simple
.