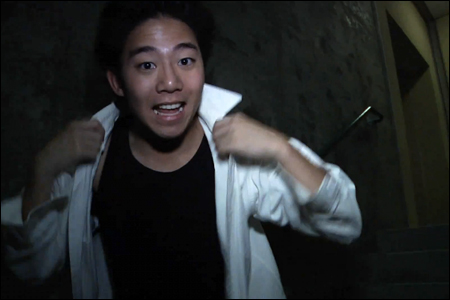 Check it out. Here's the official music video for
"Be"
by San Diego-based rap/rock band afterschoolspecial, fronted by my buddy Dan aka Dan (a former
Angry Reader of the Week
) and featuring Taiyo Na and Direct of Magnetic North. Shot largely over the course of one Saturday, the whole thing takes places in the pages of a comic book. Take a look:
The video was directed by
Scott Yoshimoto
and produced by
MOVeMEDIA Productions
. Here's some background information behind the concept and making of the video, courtesy of Dan:
The story behind it is that when we did our album release party back in October, Derek from Magnetic North + Taiyo were out on the west coast for the show. We figured since they were out here already, we should take full advantage of the situation and work to create a music video for the track- and work we did. Shot all their parts the day after the album release at locations around San Diego. Then picked up shots of the band up in Irvine in November. May we also note how doppppeee it was to work with Taiyo and Derek? We've been up on what they've been doing in the scene for a while- so to finally have recorded a track with the both of them and also make an official music video-what a feeling. A wonderful community project.

CONCEPT: The video takes place in the realm of a comic book. It's got that vivid color feel with the comic book formatting- all Scott's Idea. We decided to really get into the heart of the song, which is finding a way to just "BE." All the characters are going through some kind of intense, stressful situation. In the end, all they're looking for is a way to just "BE". And perhaps by the end of the video they're able to find a way….or maybe it was all in their heads. Scotty did a great job at animating all the sequences and bringing the story to life. Much respect to him and the MOVeMedia Productions Crew.
The song is off of afterschoolspecial's latest album
It's All In Your Head
, available from
The Imaginary Zebra
and on
iTunes
. For more information about afterschoolspecial and their music, go to the band's official website
here
. Also see Taiyo Na's website
here
and Magnetic North's website
here
.