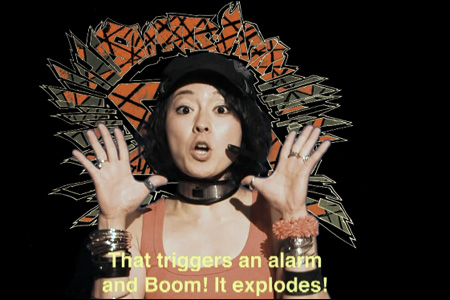 Check out the official music video for
"How the Wicked Live"
by Portland-based "Chinatown Dance-Rock" band The Slants. If you're wondering what's up with the crazy Japanese video girl intro and all the people killing each other, be aware that the video is an homage to the controversial Japanese manga/film
Battle Royale
. Take a look:
The video features guest appearances from Takohachi Taiko members Yumi Torimaru and Kohei, and local Portland rapper Mic Crenshaw. Here's a description of the video:
This music video is a Queen Jayate Productions project and was shot on location in Oregon and Washington. It pays homage to the iconic Koushun Takami novel, "Battle Royale," which was later adapted into a film and manga series. Battle Royale is one of the most controversial and best-selling stories in Japan, which depicts a ruthless program run by a totalitarian government that forces students to pit against one another until only one remains. Students are forced to wear special collars that track their movements as they kill each other while Kitano, the head of the program, watches.
"How the Wicked Live" is the first single off The Slants' sophomore album
Pageantry
. For more information on The Slants and their unique electronic dance-rock sound, go to the band's website
here
.