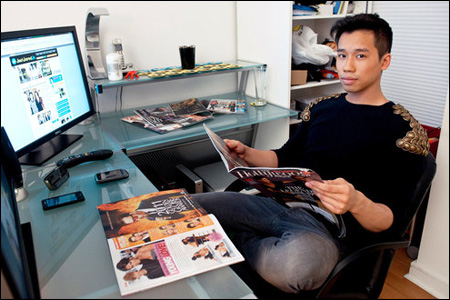 This is a really interesting
New York Times
profile on Jared Eng, the guy behind the immensely popular celebrity gossip blog
Just Jared
. While I don't follow the site regularly, I'm certainly aware of it -- but I had no idea the guy running it was a 28-year-old Chinese American guy from Queens:
Nice-Guy Bloggers Needn't Finish Last
.
In a web landscape littered with mean-spirited gossip sites, Just Jared has earned a massive audience and a lot of celebrity cred by building a "snark- and judgment-free" breath of fresh air. And it has paid off. Just Jared regularly beats out some of the biggest sites in traffic -- and is earning seven figures:
With the money the site brings in, he moved out of his parents' house in Queens three years ago to a two-bedroom condo on East 29th Street, which doubles as his blogging bunker. On a recent weekday, Mr. Eng politely asked a journalist to take off his shoes before giving a tour of his spotless home, which felt the opposite of lived-in.

Inside, he has two laughably large computer screens: one monitoring his blog and overflowing e-mail accounts; the other, even larger, streaming the latest paparazzi photos and hundreds of Twitter feeds — favorites include Kanye West's college-age stylist (@claycassius) and John Legend's girlfriend (@chrissyteigen). A 50-inch television, mounted a few feet away, was paused in the middle of "The Ellen DeGeneres Show."

The site's revenue comes almost entirely from display ads, from prestigious advertisers like MTV, NBC, Coca-Cola and Disney, to lesser-known diet and coupon brands. He makes enough to support five full-time employees, including Mr. Eng's brother, Jason Eng, 33, a former hedge fund trader who is now the company's chief executive.

"We've grown this into a real, viable business," said Jason, the oldest Eng brother. He declined to disclose the site's earnings, except to say, "This year we're easily going to gross seven figures."
Say what you will about the celebrity gossip game. I admire this guy because he basically chased his dreams, followed his interest in pop culture, and s doing what he loves -- and earning a pretty serious living. While we're in relatively divergent genres, for a blogger like me, that's pretty inspiring.