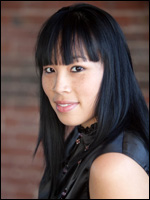 Check out Lisa Lee, publisher of
Hyphen
(and friend to this blog) on NPR speaking with Michel Martin as part of
Tell Me More's
"Behind Closed Doors" segment, talking about body image among Asian American women and her own quest to be thin:
Asian-Americans And The Quest For Thin
.
The segment is a follow-up to Lisa's recent piece for
Hyphen
, in which she recounted her own obsessive struggles with weight and body image. Her efforts even included checking into a weight loss spa and getting hooked up to a electric shock skinny-ifying machine:
Seeking the Perfect Body
.
By the way, can I just tell you how cool I think Lisa is? Huge props to you, Lisa, for your honest, candid piece and willingness to share your story on the radio. I think a lot of people, both Asians and non-Asians alike, can understand where you're coming from.