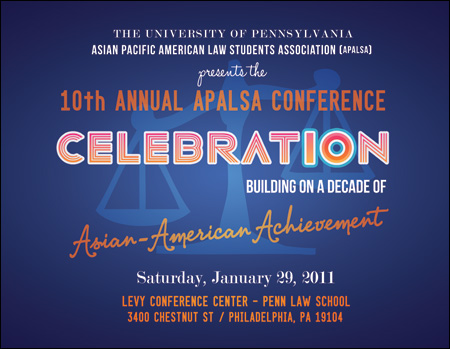 The University of Pennsylvania Asian Pacific American Law Students Assocation invites you to help them celebrate their 10th anniversary conference,
Celebration: Building on a Decade of Asian-American Achievement
.
They'll be commemorating the achievement of Asian Americans in the legal field and beyond, while recognizing that there's still progress to be made. It's happening Saturday, January 29 at Levy Conference Center at Penn Law School. Here's a partial list of conference speakers:
- 3 Asian American Judges

- Chief of the Civil Rights Unit of the U.S. Department of Justice

- Senior Vice President of a Top 25 Fortune 500 Company

- Chief Architect of the US PATRIOT Act

- Director of the Oscar Nominated documentary "Who Killed Vincent Chin?"

- Former Solicitor General of Texas

- President and CEO of Liberty in North Korea (LiNK)

- White House official

- Actor from Ktown Cowboys
I'll be there too, along with actor Lanny Joon and filmmaker Christine Choy, sitting on panel Saturday afternoon called "Actors, Bloggers, Filmmakers, and... Lawyers? Empowering Asian-American Professionals Through Arts and Media." Hope to see you there.
The conference will also include a reception with top employers, catered meals, an open bar, a formal dinner banquet and a closing celebration. Plenty of opportunities to get informed, network and have fun. For more information on the Penn Law APALSA Conference, including all registration details and logistics, go to the event website
here
.