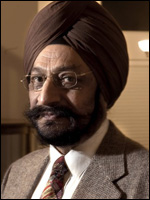 This week, California Attorney General Kamala Harris argued in a Sacramento County Superior Court filing that religious beliefs aren't enough to trump corrections department regulations --a Sikh prison guard cannot be properly fitted for a gas mask if he keeps the facial hair required by his faith:
Bearded man can't be prison guard, Calif. says
.
Trilochan Oberoi, a former commander in the Indian navy, is suing the state Department of Corrections and Rehabilitation for failing to let him become a prison guard unless he shaved his beard. Rights groups say the CDCR is violating Mr. Oberoi's civil rights, while the Attorney General is asking that the lawsuit be dismissed:
Civil rights organizations sent a letter to Harris on Tuesday asking her to reconsider her opposition and met with her top aide to discuss their concerns.

They said the Department of Corrections and Rehabilitation's own regulations allow guards to wear beards for certain medical conditions and should make similar allowances for Sikhs, Muslims, Orthodox Jews and others whose religion requires facial hair.

"Why should those who cannot shave for religious reasons be treated differently from those who cannot shave for medical reasons?" reads the letter from groups including the Asian Law Caucus, American Civil Liberties Union of Northern California, Council on American Islamic Relations — California, Sikh Coalition, Asian American Bar Association and Bay Area Association of Muslim Lawyers.

Thirty-two organizations sent a similar letter to Gov. Jerry Brown on Tuesday. Brown spokeswoman Elizabeth Ashford said she couldn't comment because she had not seen the letter.
It seems odd that a man so willing to serve the state would be denied that opportunity over something as seemingly simple as his beard. A hearing on the state's motion for summary judgment is scheduled for April 19 in Sacramento Superior Court. More here:
Rights groups back Sikh man in fight over his beard
.