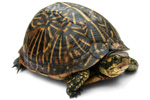 Asians behaving badly... exotic animal smuggling edition! Earlier this month at Los Angeles International Airport, authorities two Japanese men for attempting to smuggle more than 50
live rare turtles
packed in cracker and cookie boxes:
Exotic turtles seized at LAX in smuggling arrest
.
Atsushi Yamagami and Norihide Ushirozako were charged in a two-count criminal complaint alleging that they illegally imported wildlife into the United States, and one count of violating the Endangered Species Act:
Federal officials, who arrested the men Friday, said the suspects had 55 live turtles sealed inside snack boxes of cookies and crackers.

Authorities said their investigation began a year ago, when U.S. Fish and Wildlife agents learned of a smuggling operation that was illegally bringing turtles into the United States.

They said they infiltrated the ring over the summer in an investigation known as "Operation Flying Turtle," which included the U.S. Postal Inspection Service, U.S. Immigration and Customs Enforcement's Homeland Security Investigations, and U.S. Customs and Border Protection.

After U.S. Fish and Wildlife agents arrested one of Yamagami's associates at Honolulu International Airport trying to smuggle more than 40 turtles in a package, the man told them that Yamagami had paid him about 100,000 yen or about $1,200 and travel expenses to smuggle the reptiles, authorities said.
Caught! That must have been a hell of a sight -- 55 live turtles stuffed into, like, Ritz cracker packages. ice try, turtle smugglas! For illegally importing wildlife into the country, Yamagami and Ushirozako could each face a maximum sentence of twenty years in federal prison.