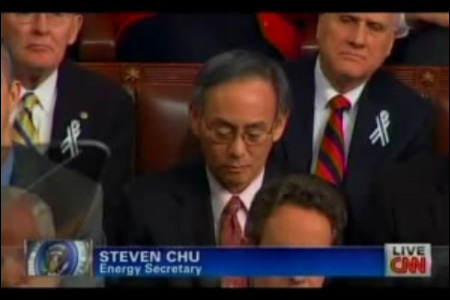 Hmmm. Was Steven Chu, Secretary of Energy, sleeping last night during President Obama's State of the Union address? If he was indeed having a little snooze time, cut him some slack! Hey, it ain't easy being the
Secretary of Saving the Planet
. Guy's gotta catch a few Zs wherever/whenever can.
By the way, today at 12:45pm EST, Secretary Chu will host the Department of Energy's inaugural
Energy Matters
online town hall to discuss President Obama's clean energy and innovation agenda as a follow-up to the State of the Union. Log on and get your energy questions answered.
You can view the chat
here
. And for more on the Secretary of Energy, you can go to Steven Chu's Facebook page
here
. And if you really like Steven Chu, you can purchase Martin Hsu's kickass "Think Alternative" shirt
here
.